Home » THE TERRYS
Joiners presents...
THE TERRYS
More info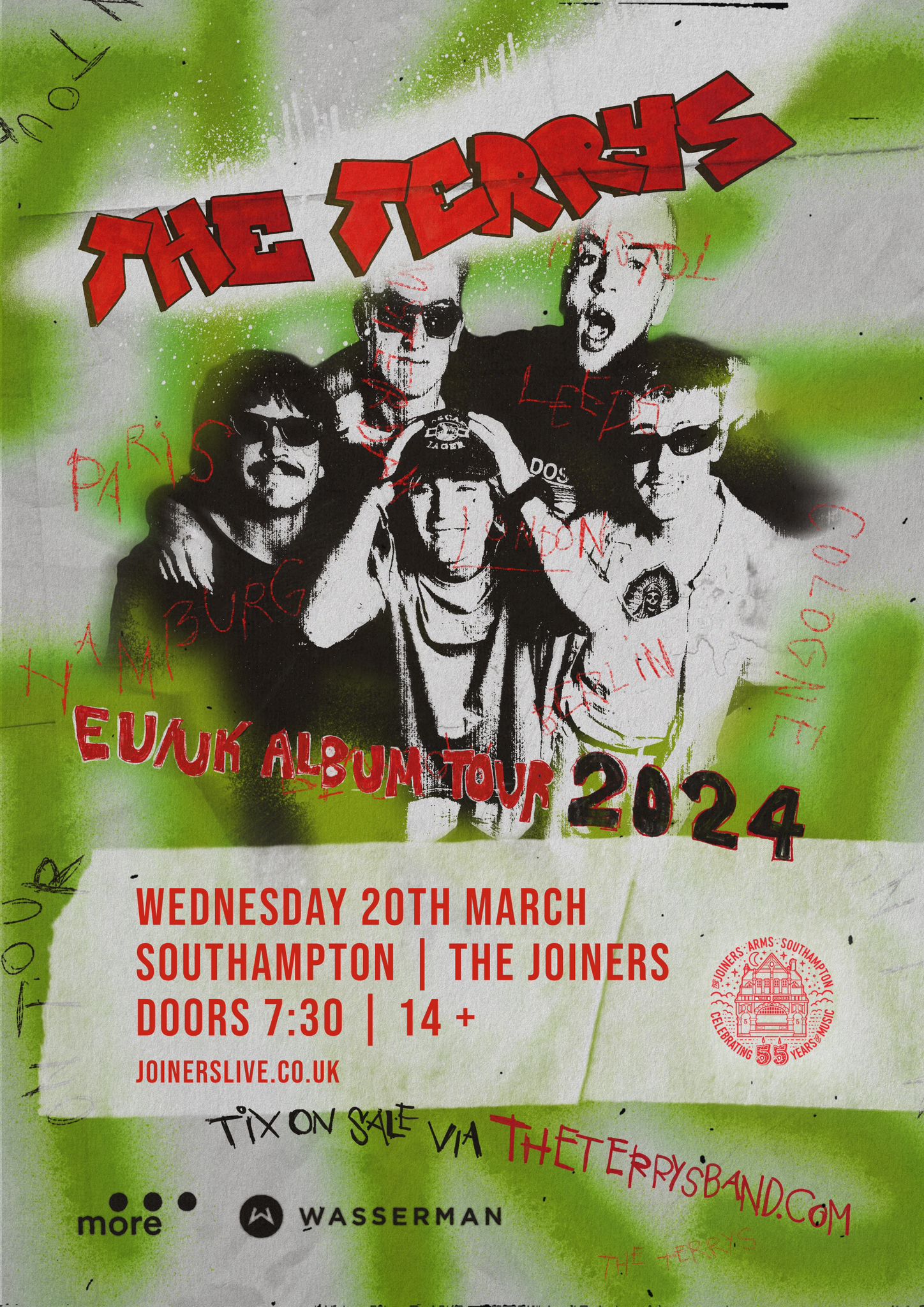 Amidst a global lockdown, Gerringong locals Jacob Finch (vocals), Lukas Anderson (lead guitar)
and Ben Salvatori (rhythm guitar) began teaching each other to jam in their shared trailer house,
owned by landlord/legend, Terry... Many noise complaints and two additional members later,
Cameron Cooper (drums) and Trent Cooper (bass), Terry agreed to lend the fully formed band
his name, and at last, the almighty Tezzas were born.

Since their debut single in mid 2020, The Terrys have been prolific in their releases and touring,
embodying their secret sauce to life and music, "Don't think. Just do. And go with your heart."
Having not even celebrated their first birthday, triple j dubbed the band "your new favourite
surf-indie outfit" and that summed up the unstoppable storm that was brewing. Following the
heavily supported singles 'Our Paradise' and 'Cost The Peace', The Terrys sold out all 12 of their
debut East Coast tour shows. In September 2021, the band released their debut body of work in
The TerrySonic Mixtape which has amassed over 10 million streams and was supported by a 21
date national tour which was presented by triple j.

The impact The Terrys cult following became undeniable at the beginning of 2022, when 'Our
Paradise' was voted in at #76 in triple j's Hottest 100 and they were also announced as the #1
most played artist on triple j Unearthed for the year or 2021. Not bad for a completely
independent band that had formed 12 months ago.

Moving at the only pace they know how, The Terrys released 'IDK' and 'Waiting For You' which
were both added to triple j full rotation and heavy support from Spotify, Apple and fans alike. If
they weren't busy enough already, The Terrys also announced their inaugural Battle of the
Bands competition which will give one lucky winner the chance to support them on their debut
national album tour... wait what? Their highly anticipated debut album 'True Colour' did not
disappoint racking up over four million streams in the first three months of the release, peaking
at #3 in the ARIA Aus Album Charts and is currently being supported in a mammoth 32 date
nationwide tour.

Infectious, fun and free-spirited is the classic Tezzas way. It's not the streams or radio plays – it's
fulfilling their own creative urges and building a community on the foundation of music and
mates in the process. It's about not trying to appease anyone or faking who they are. It's about
reflecting on life, embracing what they're going through and putting that to paper. It's spinning
everything into a positive learning curve and always looking for the ray of sunshine. It's letting
their true colours show and inspiring the Terrydactyls to do so too.