Home » 86TV's
Joiners presents...
86TV's
TICKETS AT SEETICKETS.COM
More info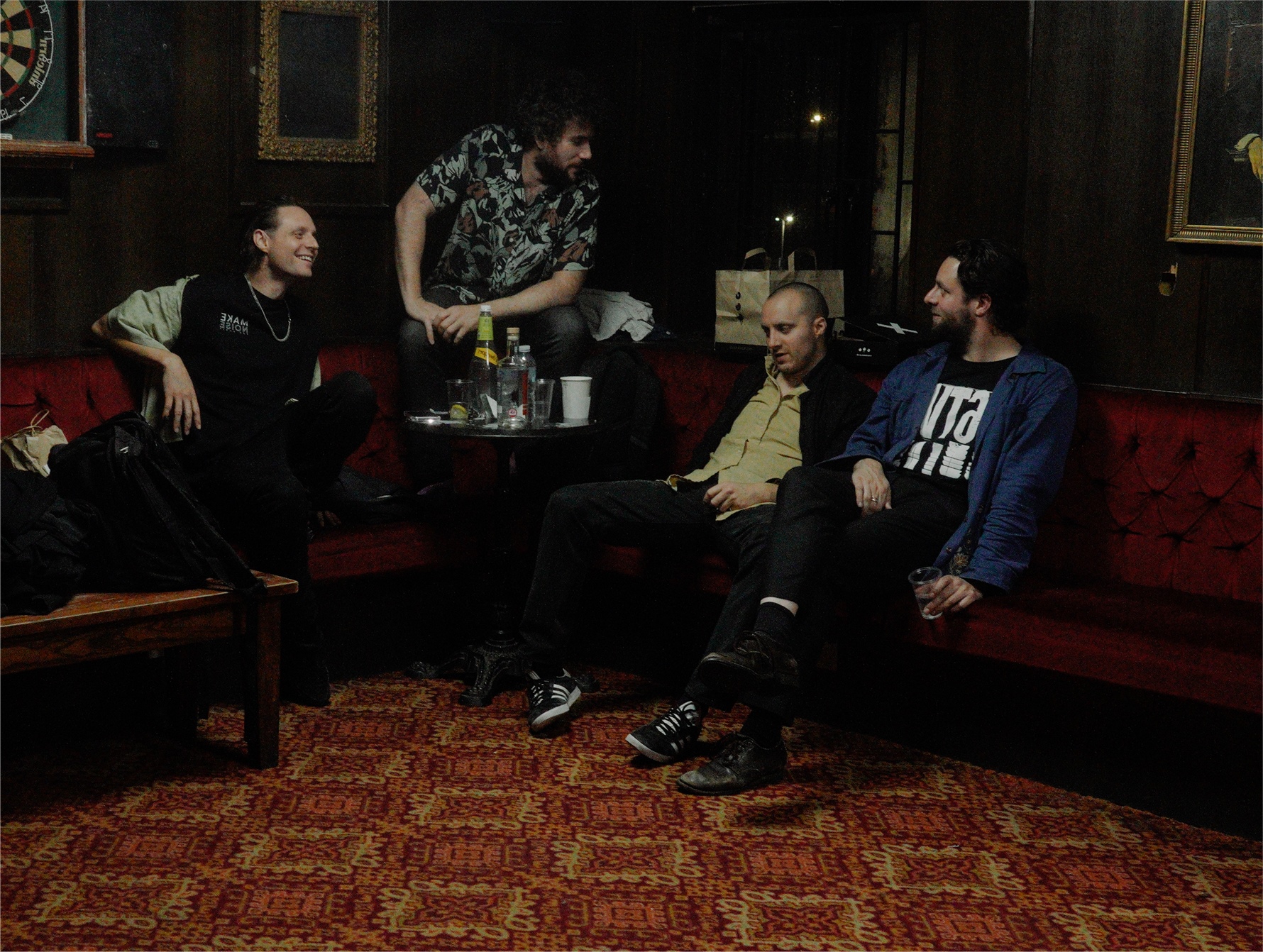 Some things in life deserve not to be rushed. Though 86TVs are about to share their debut album with the world – and album that fizzles and crackles with all the excitement and inventiveness of a group in their first flush of creativity – the path that led them here stretches back over five years. Back to 2017, when South London indie rock heroes The Maccabees called it a day after 14 years together. One of the only groups in history to have ever bowed out at the absolute pinnacle of their game, the band had just scored a number one album, won an Ivor Novello Award and headlined their first festival. Yet, they felt they'd taken the group as far as it could go and over three sold-out celebratory nights at London's Alexandra Palace, they bade farewell. As the final note of the final show rang out, The Maccabees took a bow and walked off stage, leaving on a high. Time to move on to pastures new.
"I remember after that Ally Pally gig genuinely feeling like, 'I'm good, I'm done…'" remembers guitarist Hugo White. "'… It's been an incredible thing, but I'm actually just happy to leave it here.'"
After such an emotional climax to a successful career, you might assume they'd need a bit of downtime to rest and reflect, but within days, Hugo, his brother and Maccabees bandmate Felix, and their young sibling Will, a songwriter and guitarist on his own solo project BLANc, were back in the studio, doing what they'd always done ever since they were kids: making music together.
"I don't think there was really a time where we ever actually stopped making music," says Hugo. "We still had a studio, so we started going in twice a week and just playing together, the three of us."
Perhaps for the first time since they were teenagers, however, they were making music simply for the pure joy of doing it. Though the brothers had long talked about forming a band together one day, this wasn't a band: they were just playing. There was no agenda, no pressure, no deadlines, just the music.
Yet, it wasn't until the they invited Jamie Morrison down to one of the sessions, a drummer they'd known since his days in The Noisettes, that it dawned on them that this perhaps wasn't just three brothers having fun in the studio, that there was something special going on here.
"It wasn't until Jamie came in that it started to feel like something," remembers Will. "We weren't even writing songs, it was just instrumental music with an idea that maybe we'd do a soundtrack or something. As soon as Jamie came in it started to gel. We suddenly thought: why don't we write some songs?"
"Jamie coming in and believing in it is what made it," agrees Felix.
Having left The Noisettes and joined The Stereophonics, Morrison witnessed the musical communication and exchange of ideas between the White brothers and want to be a part of it, dropping his sticks within his first minute behind the kit to say so.
"I felt like musical glue in the early days," he recalls. "I enjoyed it. It was like watering a precious flower. You take care of it and then years later it's a tree."
However, they were in absolutely no rush to go out and announce this precious thing to the world. Far from it. Following up one of the most beloved bands of a generation is not something you do lightly, and away from the pressures of the day-to-day life in a group, the four of them had rediscovered a sense of creative freedom and fun that they hadn't experienced in years. Something they were adamant they wanted to preserve.
"There was a conscious effort right from the start that is was going to be something that was enjoyable," remembers Hugo. "We all have past lives in music and we didn't want to carry over some of the traits and dynamics that we'd picked up. We were going to enjoy it because we wanted to do it."
They also had their own lives outside of music and for the first time, the band was going to have to fit around that, not the other way round. Hugo had become a father and was working as a producer for acts including Jessie Ware, Matt Maltese and Jamie T. Felix was running his own record label Yala! and had found a successful new career as a broadcaster and writer. If someone couldn't make a rehearsal at their new studio HQ in Wandsworth it wasn't a big deal, they could do it another time. Like they said, there was no pressure.
"I used to tell everybody that I would never do anything other than be in a band. I'd conditioned myself into thinking that there was only one thing available in my life. So, for a few months after The Maccabees ended, I was thinking, 'What the fuck am I going to do with my life?'" recalls Felix. "But as I've gone on and done different things it's made me feel like a much more multi-dimensional person. It gave me a bit of an outside perspective on how silly bands can be sometimes when you're inside of it. It fed into a process of becoming a proper adult outside of just being in a band."
There was, however, a slight issue with the songs they were bringing in: Who was going to sing them?
The four of them had toyed with the idea of asking a few of the musician friends they'd made over the years to add vocals and make a collaborative album. It was Smiths guitarist Johnny Marr, however, who upon hearing the demos the band had sent him, suggested that these songs really deserved to be sung by the people who'd written them.
None of the brothers were comfortable stepping forward to be the frontman. Then one day in rehearsals, they stood around a single microphone and sang in unison. It suddenly clicked. As anyone who's heard a Beach Boys record can attest, there's something magical that happens when siblings' voices come together. But there's weren't harmonies, Hugo, Felix and Will were singing the same melodies and as they did so, their voices became one. With Jamie joining the group vocal too, it was at that moment that the group found its identity. The band itself became the frontman.
Taking their name from a song by northern songsmiths I Am Kloot (a band the brothers used to obsessively go watch live as teenagers – loyally mouthing back with singer Johnny Bramwell that every song was about …. disaster) 86TVs recorded their debut album in little over a week with acclaimed producer Stephen Street, who alongside his work producing acts from The Smiths to Blur had recorded the first Maccabees album way back in 2007, before Hugo took the songs away to finesse.
"We've all had a long history with working with Stephen, so it felt like the right choice," says Felix. "Something felt right that he had made our first record all those years ago, and was making our first record again now."
You certainly wouldn't guess from listening to these songs that 86TVs' album has essentially been five years in the making. The sense of joy, ease and a feeling of openness between the bandmembers is palpable throughout.
One of the first songs they completed, Tambourine's spikey new wave knot of guitars quickly unspools into a soaring, life-affirming chorus, while the blissful Higher Love floats on a cloud of nostalgic tenderness as Felix sings of the love that no matter where life takes you, no matter how hard things get, is always going to be watching over you.
A great example of the band's creative process, meanwhile, is the stunning Spinning World, where Will's more introverted songwriting is given a soaring, anthemic lift by his brothers' presence on its skyscraping chorus and vapour trails of guitar.
Though the lyrics and the meaning of the songs the bandmembers brought in were never openly discussed, things not always talked about in person inadvertently became a dialogue in the music as they contributed ideas and worked on each other's songs.
Hugo began writing lead single Worn Out Buildings as a message to his younger self. When he brought it to Will to help him finish it off, his brother added lyrics of his own, bringing in a new perspective and creating a conversation through the process of songwriting.
"It's about the importance of validation in being off track, with the reassurance that you'll get back there in time, as a different person, one built on everything you've been through," Hugo says of the track. "And we're all united in that."
Although none of songs specifically address it, the brothers lost their mother to MS when they were children and their shared experience is something that informs much of the record's mood and reflections.
"The feeling of missing someone comes up a lot in many different ways on the album. There's a complexity to grief. There are moments where it feels like it happened yesterday and others where you can't even remember it. Maybe it feels that there are certain things that are easier to communicate in a song," says Felix. "After our first gig someone came up to me and said it sounded like The Strokes if they'd had therapy."
For five years, the band managed to keep their very existence a secret before finally announcing themselves to the world in July at a small intimate show at London's Omeara.
"There's a moment when you're on stage and you're in a kind of bliss where everything slows down," recalls Felix of stepping back out on stage after all those years. "I used to feel an almost biological response to playing live. It wasn't cerebral, it was just this feeling of, 'Oh, I'm in the right place here…' To have found that again at this point in life is amazing. Life doesn't very often give you an opportunity to do that again, you're lucky for it to happen once, but for it to happen twice feels close to a miracle. It's such a blessing to be able to do it all again.