Home » SPEEDY ORTIZ
Joiners presents...
SPEEDY ORTIZ
More info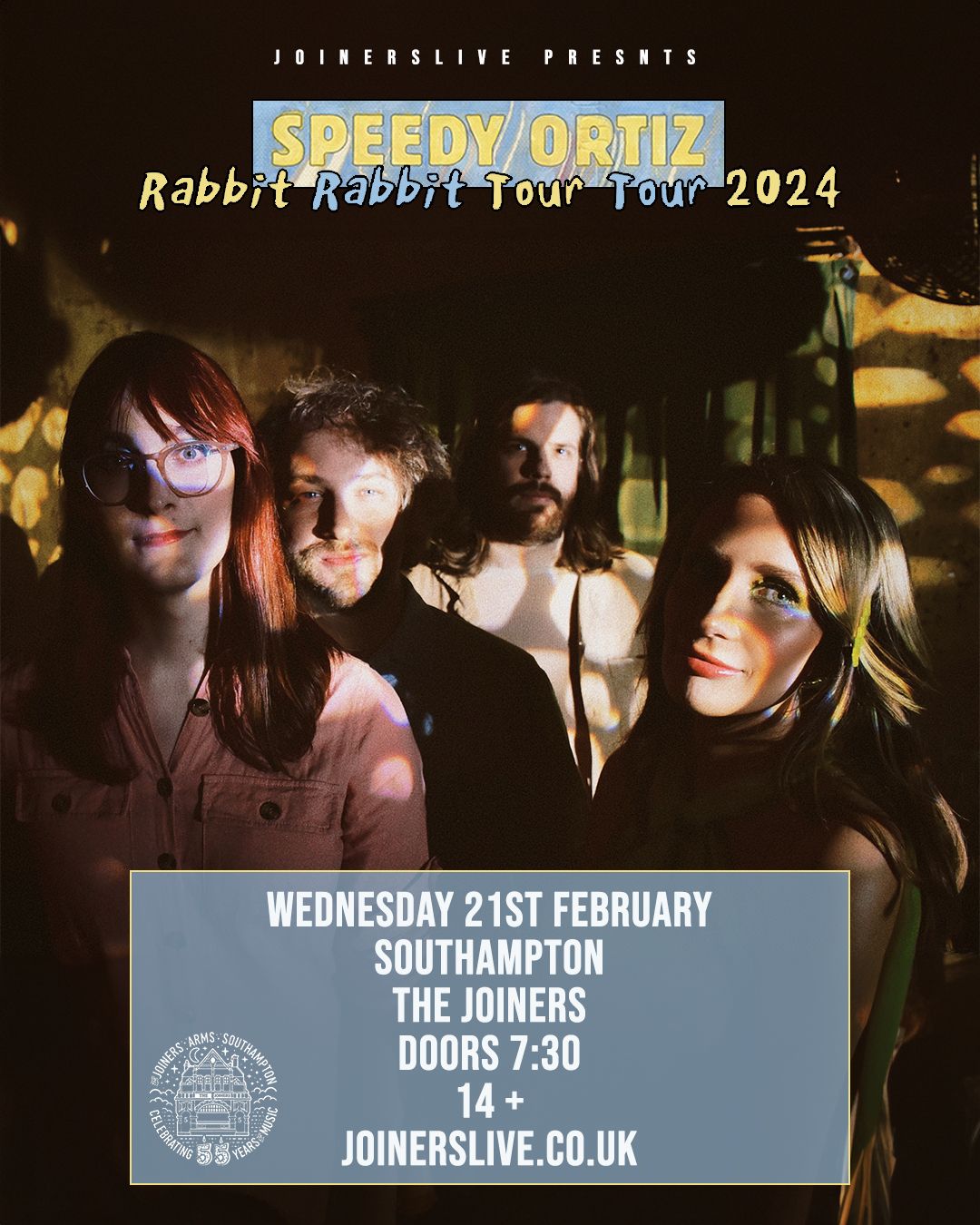 Speedy Ortiz debuted as guitarist, songwriter & singer Sadie Dupuis' home-recording outlet in 2011, but the solo project quickly blew up into a full-fledged band beloved around the world. The group graced festival stages from Bonnaroo to Primavera, supported heroic artists from Foo Fighters to Liz Phair, and brought acts including Mitski and Soccer Mommy on some of their earliest tours. In 2016, the band relocated from Massachusetts to Philadelphia, with the lineup changing shortly thereafter to include sonically inventive guitarist Andy Molholt (Laser Background, Eric Slick), drivingly melodic bassist Audrey Zee Whitesides (Mal Blum, Little Waist), and heavy-hitting drummer Joey Doubek (Pinkwash, Downtown Boys). Rabbit Rabbit is the first Speedy album to feature the longtime touring members as full contributors, and Dupuis and her bandmates blaze with unpredictability, their intrepid playing thrusting songs in exhilarating new directions.
The gnarled guitars and imagistic lyrics that defined Major Arcana, Foil Deer and Twerp Verse are still present, but Rabbit Rabbit's recordings feel as vast as a desert landscape. "As I was channeling scenes and sentiments from decades past, I wanted to honor the bands I loved when I first learned guitar, ones that taught me to get lost in the possibilities of this instrument," Dupuis recalls. Speedy Ortiz delved into its members' most formative musical favorites—post-hardcore, the Palm Desert scene, alternative metal—pushing the agile complexity of the guitars and forceful rhythmic interplay between the drums and bass to unprecedentedly tricky extremes.
The desert's guidance extended to their choice of recording locales: Rancho de la Luna in Joshua Tree and Sonic Ranch in Tornillo, Texas. They worked with engineer and co-producer Sarah Tudzin (Illuminati Hotties), who imbued the riff-heavy record with righteous heat. She also helped carve space for the electronic tones of Dupuis' ornate pre-production, completed using a synesthetic constraint in which she immersed herself in a different color to arrange each song. Former bandmates Darl Ferm and Devin McKnight added overdubs to fill out the record's already-teeming sound; David Catching, Rancho's owner, also added mesmerizing lap steel, a favorite moment for the whole band.
In her past few years of work as a writer, Dupuis recognized a recurring thread among artists with parallel backstories to her own: music had provided escapism from childhood abuse, but those same turbulent circumstances had normalized the grimmest aspects of the music industry. Rabbit Rabbit pulls no punches, either in its self-reflections or its call outs. Another catalyst was Speedy Ortiz's efforts as community activists; Molholt and Dupuis are organizers with the Union of Musicians and Allied Workers and its Philly local, which has worked to place instruments in state prisons. The band has also collaborated with harm reduction organizations, Girls Rock Camps, and other grassroots groups while on tour. In addition to her production work with electropop project Sad13 (Backxwash, Lizzo), Dupuis is also a poet; her second book Cry Perfume was released in 2022, and its subject matters of grief and harm reduction put her in the frame of mind to write Rabbit Rabbit's intimately nuanced lyrics.
Drawing from literary influences that include workplace apocalypses, magical realist family dramas, and artists' biographies, Rabbit Rabbit is Speedy Ortiz's most ambitious and expansive record to date. The album's stirring immediacy owes much to the band's strength as a collective, working together toward a better future—or, as Molholt puts it, "constantly surfing the highs and lows in search of a stable place to land." With considered muscularity, captivating earworms, and genuine solidarity, Speedy Ortiz is equipped to confront the world's indignities—with or without a good luck charm.