Home » FOXING - THE ALBATROSS IN FULL!
Joiners presents...
FOXING - THE ALBATROSS IN FULL!
More info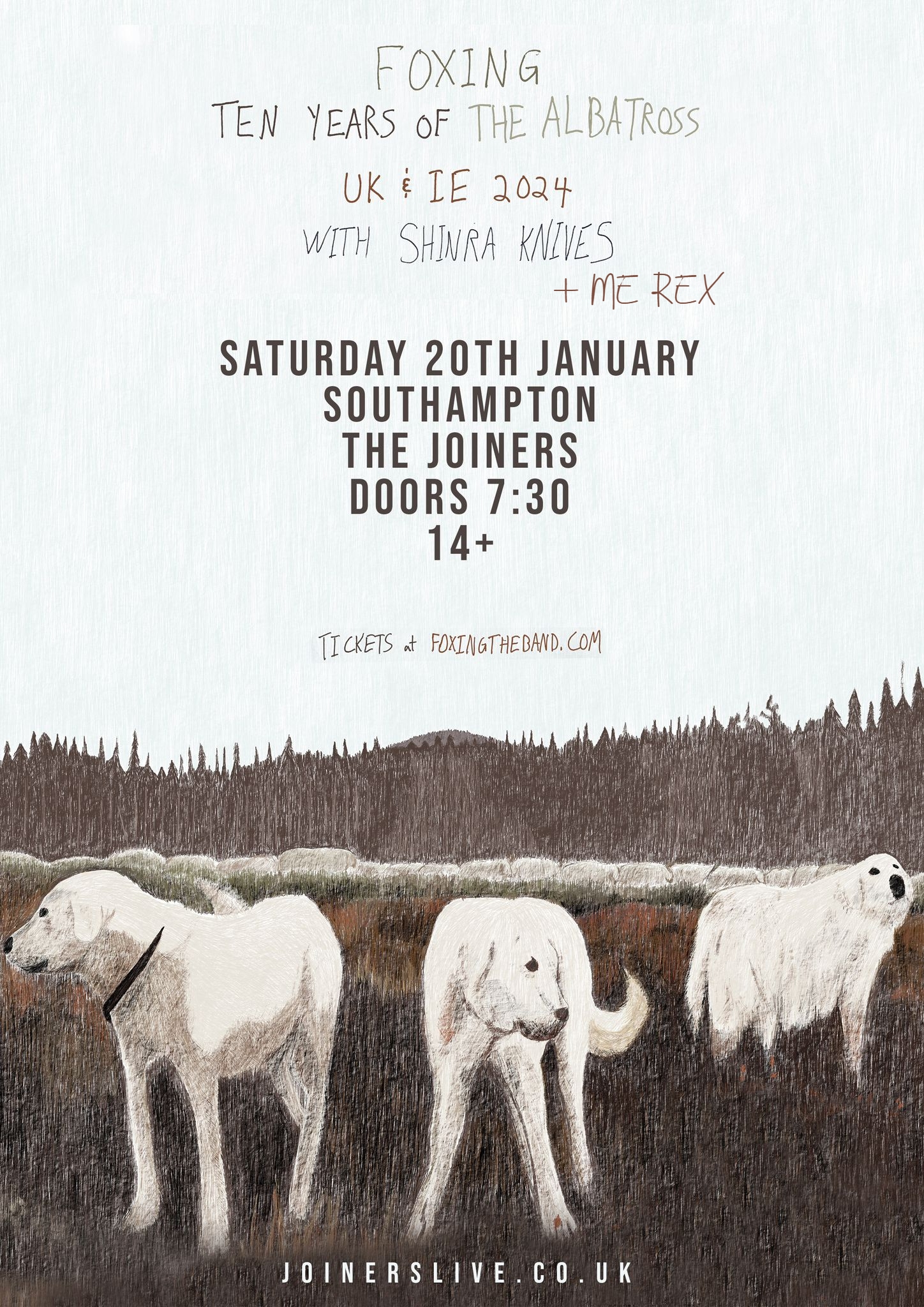 If you've ever looked at an old document and noticed brown spots on it, what you are seeing are signs of aging. It's not exactly clear what specifically causes them, but one day, the page will completely brown over and be no more. This is called foxing.
A group of St. Louis musicians took this idea and turned it into a band. "From the conception of the band, we realized: we're not gonna be around forever," says Foxing singer Conor Murphy. "There's classic literature that over time grows really old. But hopefully, you can make something that meant something at some point and will mean something down the road, even if it is aged and dated. That's always what keeps me going, the idea that we're writing something now that we won't be able to write in ten years." At only 21, Murphy is wise beyond his years and Foxing's debut album, The Albatross is indisputable proof of that.
The Albatross has an epically beautiful, almost cinematic quality to it, a fact which the band members, some of whom were film students, are acutely aware of. Listening to their song "Rory" along with the music video they made for it is not only an emotionally jarring experiences but highlights the fact that Foxing have a bigger picture in mind than simply making music. It's not just a sound, it's a deeper, fuller concept fueled by a palpable sense of raw honesty and soulbearing. It's not just a band, it's the most vulnerable parts of their lives, reflected back at them.
Coll and Murphy write the lyrics together and cull from their lives and current real-life experiences. They are open and genuine about themselves in their lyrics, almost to a fault, sometimes putting a strain on their relationships with those around them. "The people that those songs are about, there's no way they wouldn't know it was about them," says Coll. "Sometimes, there's the desire to not put your life so far out there. But it's also important to not hold back." The two have a unique process of co-editing each other's songs. "When we were writing the record, one of the biggest things I'd talk to Conor about was: I don't care if people like this record or not. I mean, I want people to enjoy it, but the one thing that would gut me would be if people said the lyrics are disingenuous."
Foxing's forthright lyrical honesty paired with their stunning orchestral sound quickly started earning them devoted fans, some of whom have been so emotionally moved that they've openly wept at the band's live shows. It's something Foxing didn't expect and certainly were not prepared for. "I was really surprised at the reception we got from this record because it's very, very specific and personal so it's weird to have people grasp that and feel a kindredness to it, that's insane to me," says Coll. In addition to the new fans who were responding to Foxing's music in such a personal way, the band also caught the attention of Triple Crown Records. The label took notice of the organic buzz surrounding the band and are re-mastering and rereleasing The Albatross.
Although The Albatross has a distinctly timeless quality it about it, Foxing recognize that while they're proud of the album, it won't hold up forever. Much like their namesake, the pages their words are written on will eventually brown over and fade away. "The thing that binds everybody together is the idea that death is completely imminent. age is an ever-looming idea that we can all agree on," notes Murphy. "We make this music, we release it, and then, one day, it dies."