Home » JIM JONES & THE RIGHTEOUS MIND
Joiners presents...
JIM JONES & THE RIGHTEOUS MIND
More info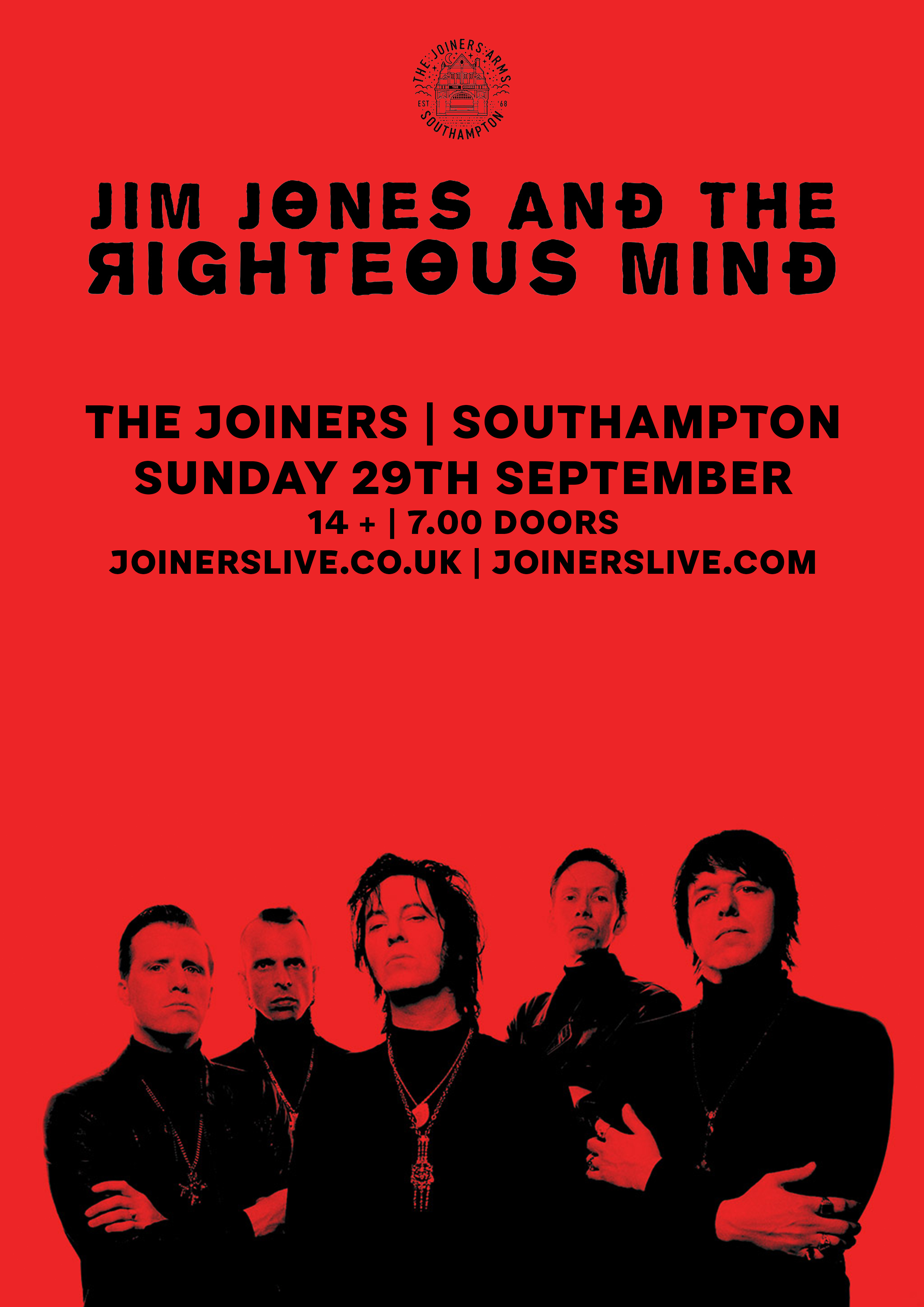 Front man Jim Jones's distinctive recording history has spanned several
incarnations including The Jim Jones Revue, Black Moses and Thee
Hypnotics. With The Righteous Mind Jim's musical vision expands into
new vistas encompassing not only the blistering garage rock 'n' roll
The Revue were lauded for but also dark cinematic soundscapes, psyche
tinged country blues, gospel and "heavy lounge." Contemporary influences are
also evident with a more eclectic, experimental approach giving the music
dynamism and relevance.
Press
"With his latest incarnation a hefty dose of voodoo has been stirred into the pot of Jones' own particular sonic gumbo, and it's a heady brew." – The Arts Desk
"Jones is clearly in the business of thwarting expectations; no bad thing when the group are as good as this…….It's controlled chaos and The Righteous Mind deliver on all levels tonight" - Louder Than War
"Roll over the Revue, it's time for The Righteous Mind" – MOJO
"Channelling the moody atmospherics of Nick Cave & The Bad Seeds... ramps up the raunch with whisky-soured hellaciousness
to spare" – Classic Rock
"The band dish out fistfuls of dirty rock'n'roll with a side order of voodoo and psych" - UNCUT
"Volume and sheer sonic attack. Superstition, catharsis, darkness, dynamics, the ghosts of music past and pointers to a new future" - SHINDIG
"Banshee-howl of genius." - R2
"Business as usual for Jones, cranked up to 11" - Q
"There really aren't enough superlatives to describe just how good 'Super Natural' is, you'll be hard pushed to find anything as near perfect - 10/10" - VIVE LE ROCK
"Super Natural is an album that more than lives up to its name." - THE QUIETUS