Home » SIMPLY WELLER - PAUL WELLER TRIBUTE
Joiners presents...
SIMPLY WELLER - PAUL WELLER TRIBUTE
More info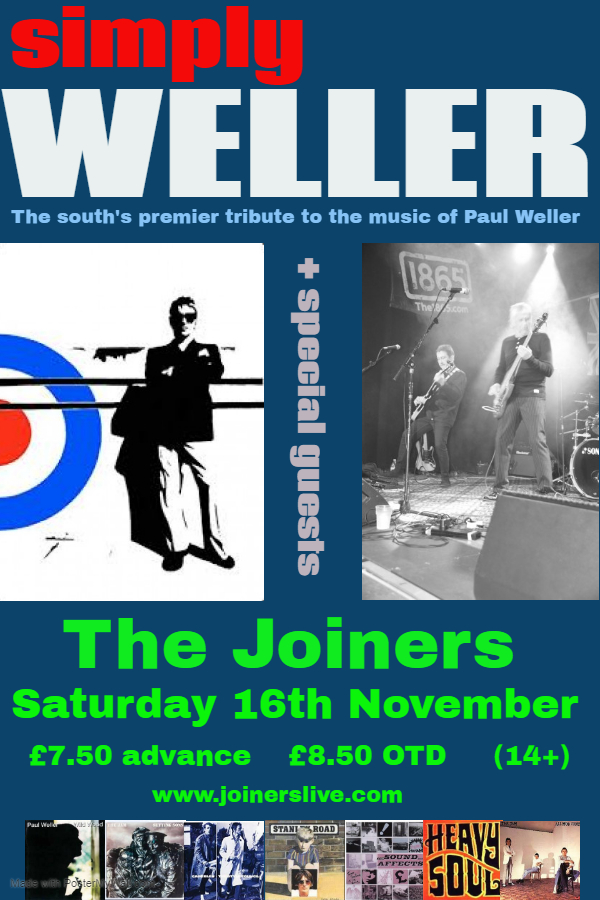 Simply WELLER … Paul Weller Tribute + support 16/11/19 The Joiners Southampton
Simply WELLER are the south's premier tribute to the music of PAUL WELLER THE STYLE COUNCIL & THE JAM.
Formed in Hampshire 4 years ago after they realised that apart from the many fine Jam tribute bands representing his early days there was no one truly paying homage and doing justice to Paul Wellers incredibly varied diverse and hugely successful solo career and back catalogue and they have quickly established themselves as the forerunners in faithfully reproducing his solo career material and paying respect to The Modfathers 40 plus years in the music business as one of the most creative and successful recording and live artists this country has ever produced.
Performing all of his solo hits and classic landmark album tracks from 'Paul Weller-Wildwood-Stanley Road-Heavy Soul-As Is Now and right up to the present day they will also play the most popular hit singles from 80's pioneers THE STYLE COUNCIL and mod icons THE JAM.