Home » SKIES
Joiners presents...
SKIES
+ WREN + TYLER COLLINS & THE RADAR
More info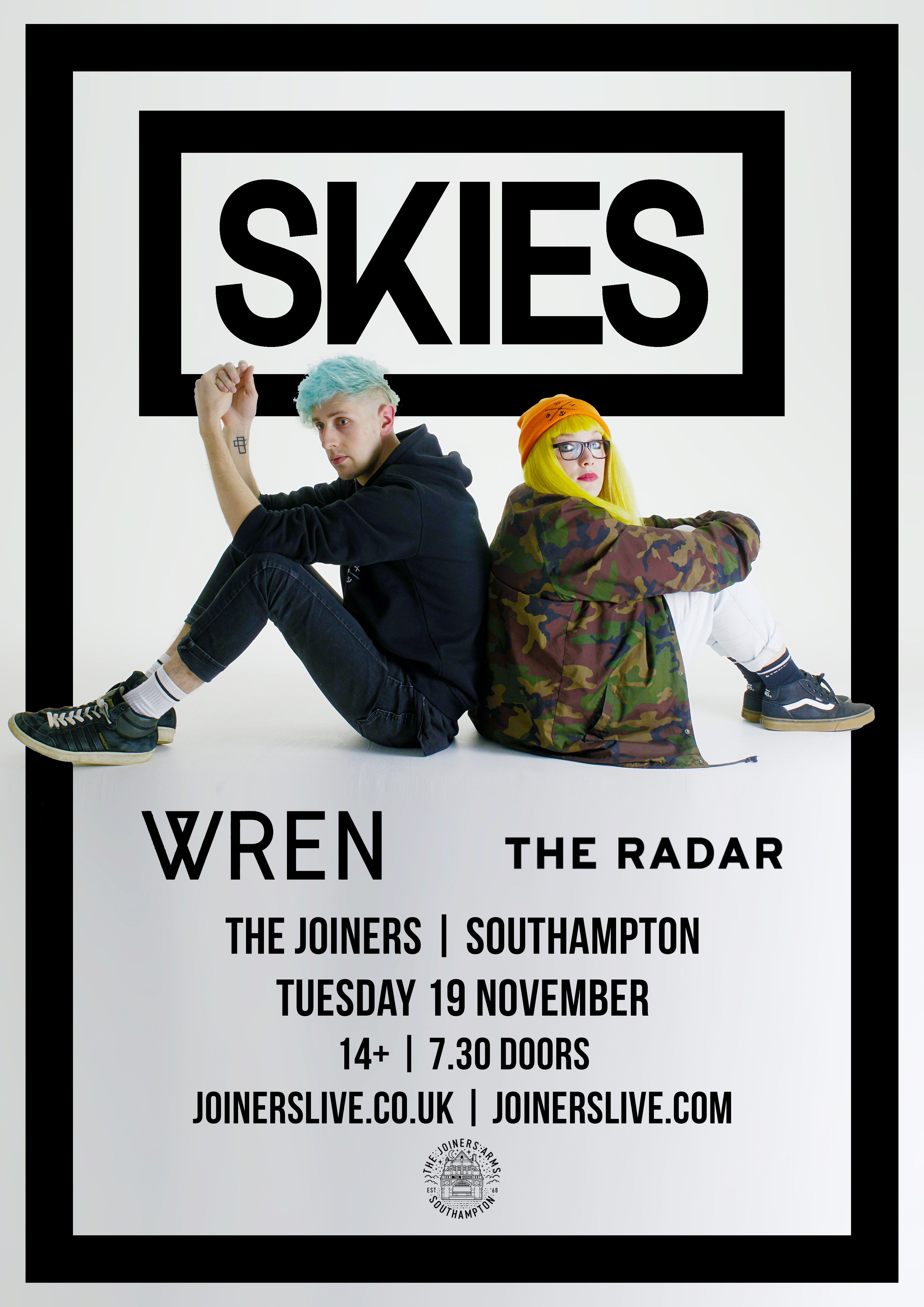 Handpicking elements of pop, rock & emo in equal measure, SKIES first made their mark on the scene with the release of debut EP 'If You Feel Like It', via LAB Records (2015). Tracks from the EP featured as 'Record of the Week' on BBC Introducing in Kent and stand out single 'Drone' featured on Radio 1.
From there, the band picked up support across the board from the likes of Punktastic, Already Heard & Clash, to Q & TMRW.
Alongside debut UK headline tour, SKIES released 'We Fear Change', their second EP, throughout 2017. Tracks from which featured again on BBC Introducing in Kent, Made in Chelsea & various Spotify playlists including 'Hot New Bands'.
SKIES third EP 'X', released June 1st 2018, from which, singles 'Pills' and 'Dusk' featured on BBC Introducing in Kent,Spotify's 'All New All Now','The Indie List','Rock Rotation','All New Rock'&'Hot New Bands'playlists, amongst others.
Latest offering, anthemic new single 'X' premiered on Spotify's 'New Music Friday' playlist, 'New Noise' and also featured on ITV's The Only Way is Essex alongside SKIES 'X' Tour.
Set to tour the UK once again in Spring 2019, don't miss out on being part of where their journey takes them next…
SKIES are Alie Cotter (lead vocals/guitar) and Jericho Tozer (drums/vocals/synths).