Home » AU/RA + CHARLOTTE
Joiners presents...
AU/RA + CHARLOTTE
SINGER OF PANIC ROOM
More info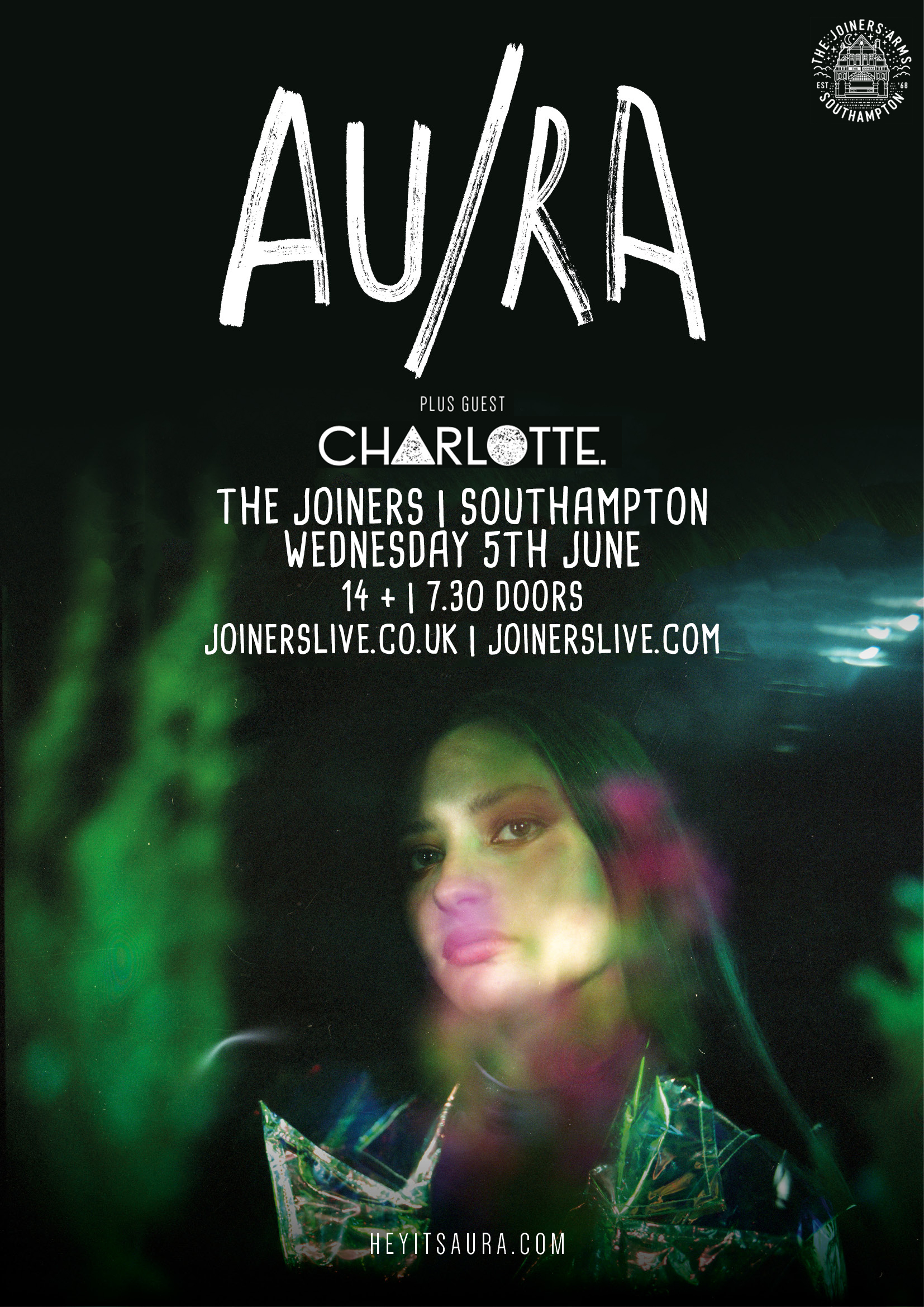 Au/Ra is a uniquely nomadic teenager. A frequent visitor to L.A.,
she speaks and sings with the lilting accent of someone who lives
there, and yet, in reality, English is her third language. Born in
Ibiza, she initially spoke Catalan, as well as German. It's partly this
rich linguistic and cultural background that gives her the ability, at
just 16, to write glistening alternative pop songs that can speak to
anyone.

Au/Ra's multi-lingual upbringing is not the only thing that sets her
apart: the green-haired singer-songwriter also penned a hit debut
single — surreal pop jam "Concrete Jungle" — which has garnered
over fifteen million streams worldwide and praise from The NME,
Wonderland, and The Line of Best Fit.
Au/Ra spent the first five years of her life in Ibiza, where her
mother (a songwriter who was raised on the island) and her father
(a German electronica DJ and producer) first met. Though she
doesn't remember much of it, she has a mellow, sunkissed
impression of living in the renowned party capital — until her
parents decided it was the wrong place to raise a child, and
moved to Antigua in the West Indies.
"I'm so glad that I grew up in Antigua, and am still growing up
there," reflects Au/Ra. "It's really grounded me in many ways.
One main thing there is you really have to wait for everything; for
example, you can't just take a shower when you want to wash,
you have to wait for the water to come on. It's a third world
country. We can't rely on electricity or the internet either, which
also puts things in to perspective!"

Growing up, her father's background in the trance and techno
scenes meant that Au/Ra had exposure to seminal electronic
music artists like Kraftwerk from a young age. Those synth
melodies wove themselves into her own musical leanings towards
indie rock — The Neighbourhood, Arctic Monkeys — and major
pop acts like Ariana Grande and Lana Del Rey. At the cross-section
of these diverse influences is the story-driven, punky electronic
pop she now creates. Au/Ra retains the straight-talking directness
of indie music, and marries it with surging, mesmerising
production, but as she puts it, she "always keeps pop in the
middle." As a child, Au/Ra would write songs for herself a capella.
She played piano for three years, and sang in a choir, but found
her real creative stride in recording sessions with her dad. "He
didn't really want me to get into the music industry," she admits
— but Au/Ra insisted, and he ended up producing her earliest
tracks. At 12, she began traveling abroad to different studios for
writing sessions, and was unusually unfazed when experiencing
something most wouldn't dream of before their teenage years.
When she's writing, Au/Ra explains, "I'll probably find a word or a
concept, then I'll write down a bunch of adjectives that go with
that, and then I'll start singing a few melodies...Most of the time,
I'll come up with a storyline — an actual story I'll put into the
song."

That sense of narrative is plain to hear in the propulsive "Concrete
Jungle." "That song was my perspective of coming to a big city for
the first time," Au/Ra remembers. "Seeing that there are so many
different kinds of people living there, and that you need to figure
out of who really has your best interests at heart." More generally,
it's a critique of the consumerism and materialistic obsession of
city life. Au/Ra's story unfolds itself through the song in cinematic
vignettes: her lyrics burst to life with images like "abandoned
retail emporiums." And "Amazon Prime the new world power"
In her songs, interwoven with this, Au/Ra naturally manages to
give a voice to people's differences being ok. The anthemic "Kicks"
pounds along on sparse insistent percussion as she sings "What's
dust to you is gold to me, we're just different books to read" On
her upcoming single, "Outsiders," she wrestles with a feeling
familiar to teenagers the world over. "I've always kind of felt like
an outsider," she muses, "Not just because of growing up in the
middle of nowhere, but also because I've always just been a bit
introverted. I wanted to make a song for people who don't feel
like they fit in, and just say, 'It's okay to be a bit weird. Whoever
you are, you shouldn't feel less powerful just because you don't fit
in with the typical in crowd.'"
In most of Au/Ra's deeply visual, evocative lyrics is a sense of
escapism, influenced by her fandom of anime and fantasy.
Growing up devouring Studio Ghibli films, she's always loved to
disappear into the soft-edged, uncanny world of Miyazaki
animations, and uses similar designs to flesh out the visual world
of her music. "I see my music in my head as anime," she says.
"The world of those movies, they're so different, and the
characters have so many random traits that make them weird in a
unique way."

With her lovingly made outsider-pop, Au/Ra is providing a similar
kind of space in her songwriting: one where misfits feel at home
and where the listener gets to peer for a minute through the lens
of an artist who has simultaneously grown up outside the system
but who speaks with the zeitgeist of her generation.