Home » NEVS Presents: Bratis and Sublunary
Joiners presents...
NEVS Presents: Bratis and Sublunary
More info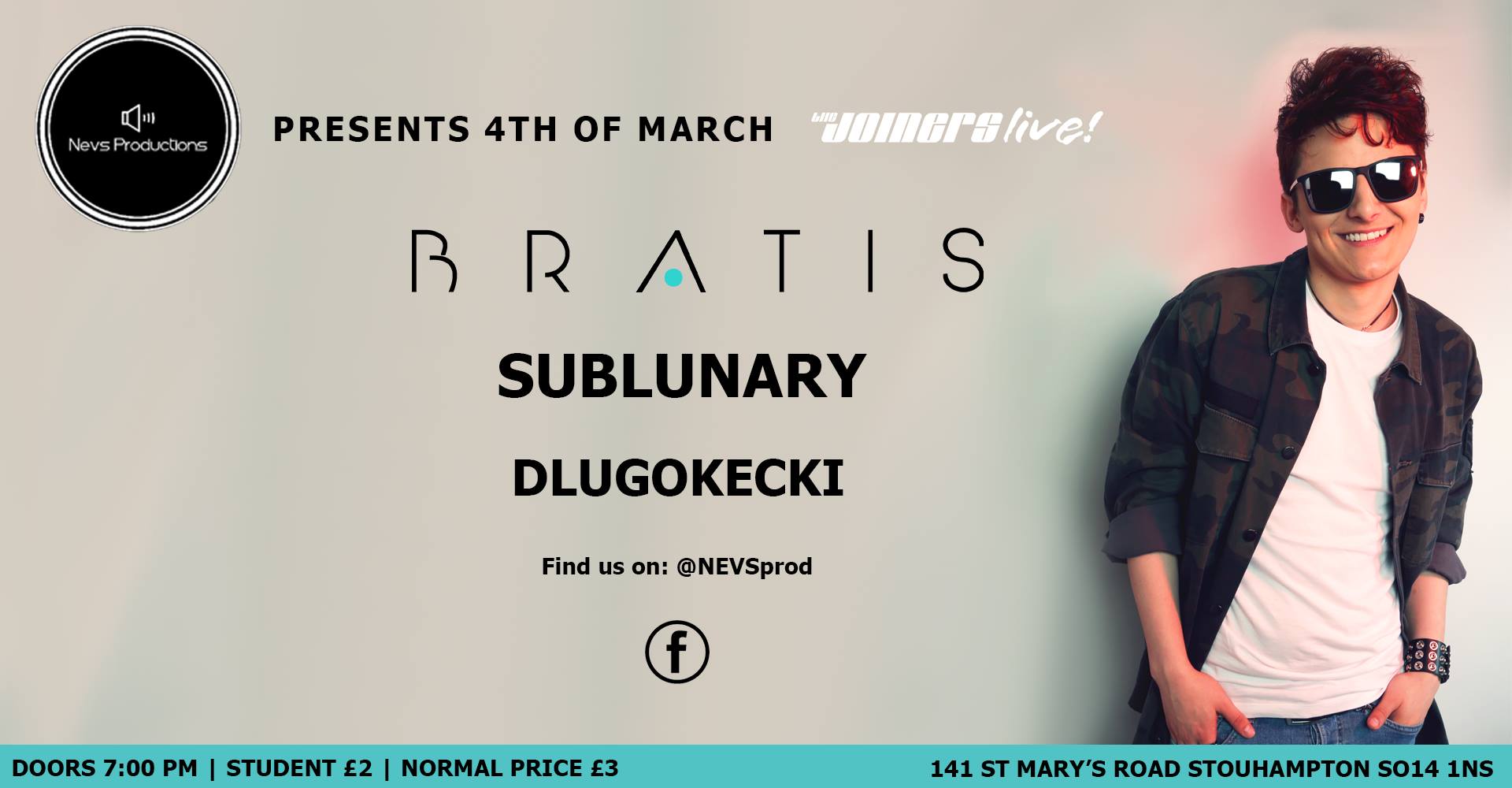 NEVS Productions invites you to join us for a night of great live music at the Joiners. Come and listen to talent from the local scene with BRATIS, Sublunary and Dlugokecki playing on the night.

Tickets are on sale now!

BRATIS:

Based in Southampton, Bratis is a pop artist / music producer and multi-instrumentalist. The sound can be described as full and modern, incorporating synths and special effects. He released his first 4 singles: A Better Me, Drunk Too, Liquid and Love you as I love myself, but he's promising a first EP this spring time.

SUBLUNARY:

Sublunary is a 5 piece band originating in Egypt with members stemming across the Mediterranean from Egypt, Syria, and Cyprus. Ahead of their EP release, they'll be performing a debut of the production as well as other original material blending genres in a head banging, hip swinging, blend of progressive rock inspired music.
DLUGOKECKI:

(pronounced Der-loo-go-ken-ski) is the Southampton based project headed by Ben Dlugokecki. The band have supported acts ranging from Snow Patrol to the Proclaimers throughout their career, spanning over 15 years. They've performed in America, played sessions in Ibiza and in numerous other locales from Spinnaker Tower, Stonehenge and Blackpool Pleasure Beach to Old Trafford and the top of Mount Snowdon. To date the band have put out 5 albums with number six, their first record in six years, slated to release soon in Easter 2019.