Home » FILTHY TONGUES
Joiners presents...
FILTHY TONGUES
More info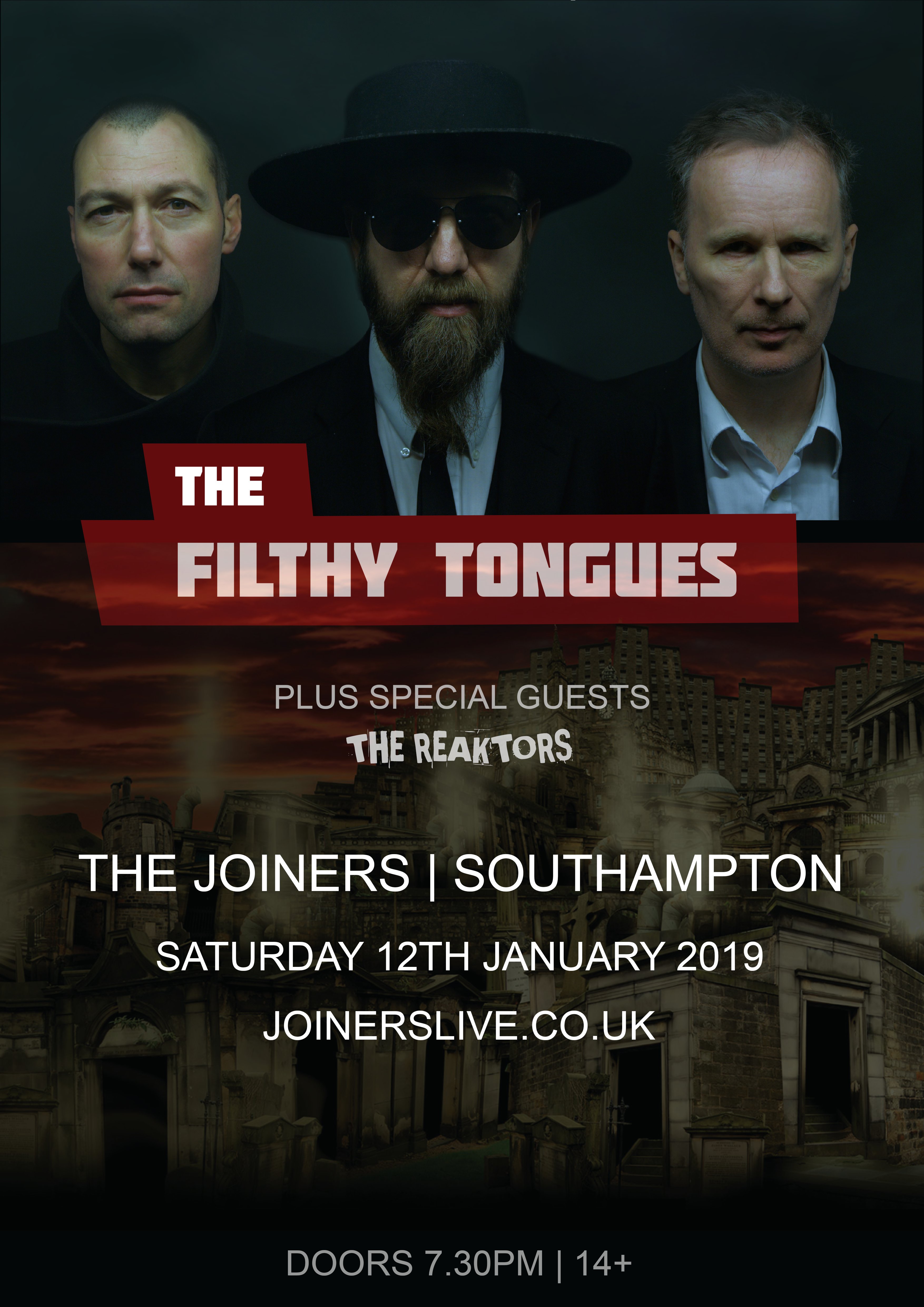 The core members of the band - Martin Metcalfe on vocals and guitar, Derek Kelly on drums and Fin Wilson on bass guitar - have been making music together since the 80's.
In a colourful career they've worked and toured with Blondie, The Ramones, Chris Frantz and Tina Weymouth, Vic Chesnutt, New York Dolls, Big Audio Dynamite, Aztec Camera and many more.
In the late 80's and early 90's Goodbye Mr MacKenzie were on the cusp of big things in the UK and Europe before record company wrangles, and a shift in direction, saw them morph into Angelfish, tour the States extensively and bring the singing talents of Shirley Manson to the fore.
With Manson then moving on and going global with Garbage, Metcalfe & Co returned to the UK and recorded further albums in their former guise before forming Isa & The Filthy Tongues, releasing another two fine bodies of stark and enthralling work, Addiction and Dark Passenger, both of which received five star reviews.
The band also wrote music for Richard Jobson's film New Town Killers and their track Big Star featured on the soundtrack to David MacKenzie's Hollywood film Spread. They recently co-wrote a number of songs on The Skids 'Burning Cities' album.
Over the years critics have recognised The Pixies, Echo and the Bunnymen, Joy Division, Nick Cave and Scott Walker influences, and other plumbers of the murky musical depths, but the style of this ever evolving band remains strikingly and individually their own.This could well be their finest material yet.
The Filthy Tongues' 2016 debut album Jacob's Ladder received rave reviews with its literary musings on their hometown of Edinburgh.
The follow up, Back to Hell, delves deeper with menace, dark lyrics and claustrophobic soundscapes in spades. It's out now.
Reviews for Back to Hell
'The whole thing has clearly been a labour of love, meticulously arranged and as a result, it is, easily one of the most thrilling releases of 2018 to date. Truly stirring, this really is terrific stuff.'
godisinthetvzine.co.uk
'Back to Hell is, like Jacob's Ladder, an incredible album. It's one of the best released in Scotland so far this year, with a heady mixture of Nick Cave, blues and the indie survivors' knack for a catchy hook and wry humour.'
Scottish Daily Record
'This is a superb album, full of shades from dark grey to deepest black but still utterly listenable to – in fact it demands your attention. I love it'
music-news.com
'With irresistible hooks and melodies snaring the listener from start to finish, these beautifully crafted songs are built to last and will reward repeated listening. Scottish Album of the Year? Place your bets now.'
Penny Black Music
'Listening to this album is an emotionally engaging and exhilarating experience. It ensnares you from those first words seducing you with the lyrical imagery and accomplished musicianship. It is only April, but I'm convinced this striking album will unquestionably be featuring in my end of year lists'
thegingerquiff.com
'...another extraordinary encounter with The Filthy Tongues. Their Jacob's Ladder was one of the essential releases two years ago, Back to Hell is THE most vital release of this so far and hard to see being eclipsed too often over the months ahead.'
The Ringmaster review
'This is part of a planned trilogy and is a riveting, driving follow-up. If there's a more exciting band currently playing north of the border, I've yet to hear them.
LouderThanWar
Reviews for Jacob's Ladder
'An incredible debut from Scotland's musical survivors.'
Scottish Daily Record
'Jacob's Ladder must surely be a contender for Scottish Album of the Year or the bloomin' Mercury even'
Is This Music?
'It's claustrophobic, and menacing with nary a glisten of sunlight, but it's all the more compelling and captivating for that.'
jockrock
'A vivid and visceral exploration of Edinburgh's underbelly that recalls Nick Cave & the Bad Seeds at their most intense.'
Louder Than War
'A strictly testosterone-charged mean gothic blues machine.'
The Scotsman
'Easily one of the albums of the year...it's an enthralling ride'
ViveLeRock
'Destined to emerge as one of the most acclaimed albums of the year.'
RingmasterRock
'A ferocious, black-hearted record of angry rock and blues.'
Glasgow Evening Times
'These songs wrap themselves around you like a warm blanket and effortlessly soothe your soul...This is music to truly lose yourself in'
GodIsInTheTV
'As thought-provoking as it is challenging, 'Jacob's Ladder' is first-rate'
Penny Black Music
'Like a rabid mongrel of Nick Cave's Henry's Dream and Alabama 3's theme for The Sopranos...4/5'
South China Post
'A dark, apocalyptic, stomping chug....undeniably a strong album'
whisperinandhollerin
'This is a dark, menacing gothic growl of an album, with unsavoury characters and unsuitable venues glorified on wonderful songs...4/5'
Scottish Daily Express
'Jacob's Ladder is the best thing they've ever done. And that's saying something. It's AAA's Album of the year'
Access All Areas