Home » Gonnabesick: X-mas Marks the Spot
Joiners presents...
Gonnabesick: X-mas Marks the Spot
[Feat. Captan Flatcap + More!}
More info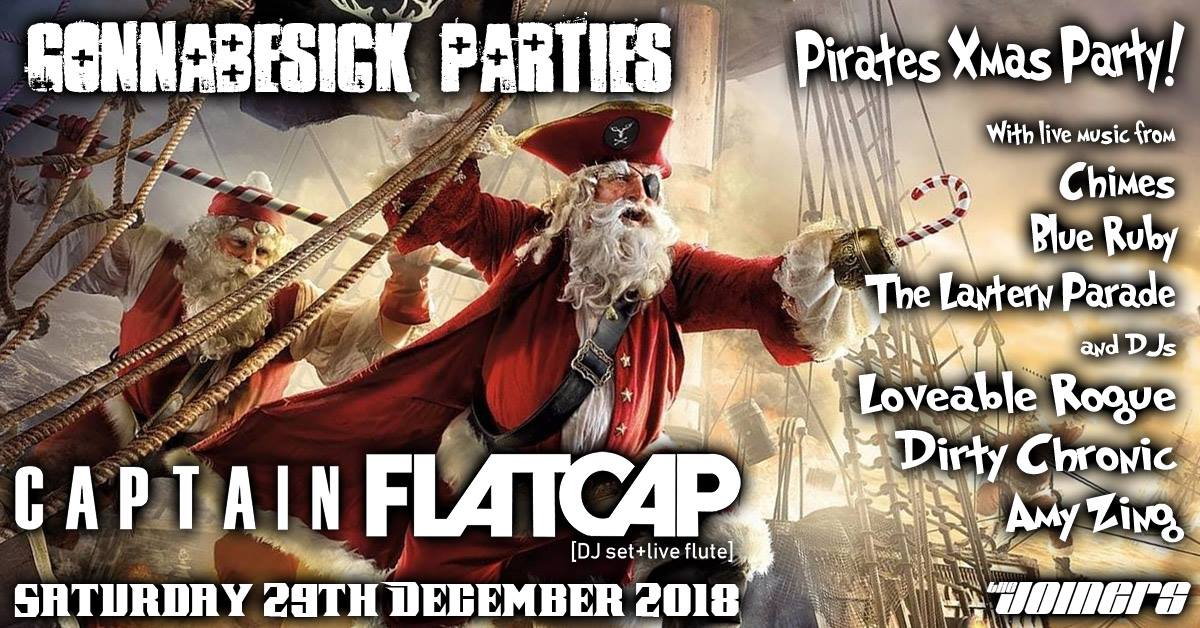 Gonnabesick's Xmas party @ The Joiners - Pirates/Christmas theme
Live music + DJs playing a wide range of music
Blues/Funk/Disco/Glitch/Drum & Bass/Vintage Remix/Hard-Tek/Christmas tunes/Bass music!
Full line up and details below

Gonnabesick's Year of the Pirates: Episode 2

Having been shipwrecked back in October, with no way of knowing the way home, our plucky band of party pirates barely remember how they got where they are now. They remember drinking the Moonshine and feeling Wbbly. They remember stumbling across a field filled with Dirty Chronic, and burning it all in a Farm Fire. They vaguely remember hiding in the Basement , and they remember finding the map in the bottom of a Binbag of Wisdom.

The map gave them a purpose, and they struck out to the North. If they can find the treasure, they can buy a boat, and if they can buy a boat, they can go home. They can go anywhere...

They have been walking for months now, as it's grown colder, and colder. After a long long walk, it's become clear that they are entering a strange land. Candy canes have replace the trees. The snow seems extra sparkly. And few days ago they saw a ship pulled by reindeer flying across the sky...

They plough on, telling each other stories of the Legend of Whitebeard, as they continue to follow the map.

They must find the legendary treasure of Captain Flatcap.

X-Mas Mark the Spot.

Lineup:
Captain Flatcap
Multi-genre, instrumental electronic dance master, Captain Flapcap heads up the party. The Guilford based producer and DJ unleashes a formidable mix of electro swing and vintage remix, including influences of swing, ska, funk and dance plus mind-blowing LIVE flute!
Captain Flatcap has supported and played with The Freestylers, A.Skillz, The Correspondents, Dutty Moonshine, Chris Tofu, Odjbox, The Electric Swing Circus, Too Many T's, Father Funk and many more.

Chimes
Chimes are unlike your usual electronica live band- they create high octane, floor filling dance tunes by infusing live grooving breakbeats, massive electronic bass lines and powerful, heartfelt vocals leaving you completely breathless. Since receiving great support from BBC Introducing, and recently doing an "In Session" for BBC radio Berkshire, Chimes have been going from strength to strength following their latest single release "Mr Wolf".

Taking inspiration from Pendulum, The Prodigy, The Chemical Brothers and Wilkinson, Chimes are breaking the mould with their eclectic anything goes vibe, and have been delivering electric performances across UK's south coast.

Chimes are a 3 piece band consisting of live vocals, drums, guitar, synths and loopers. Their sets encompass a mixture of pop, electro, trance, glitch hop and drum n bass, but they continually surprise their audiences with their ability to weave these varied styles into one awe inspiring experience.

Blue Ruby
Soulful Jazzy blues music from a noir inspired 3 piece with a sense of humour.
https://www.facebook.com/BlueRubyMusic/

The Lantern Parade
The Lantern Parade hail from Southampton in the UK. But they aim to take over the world. Carefully selecting their influences from across the entire musical spectrum, they then set about completely ignoring them. Instead they created their own special blend of music, a blend they like to call blue pop disco. This six piece with two singers and a whole host of talented musicians, have a sole purpose in life. They want to make a noise you can dance, laugh, and maybe even cry too.
Each one of them is a songwriter in their own right. They've written songs that are catchy and dark at the same time, and others that will make you want to dance your feet off! Sounds are all around when the Lantern Parade's in town!
https://www.facebook.com/thelanternparade

Dirty Chronic
Music Mashed together by the deranged brain power of two music junkies bring you something for the A.D.H.D generation!!

Loveable Rogue
Vintage remix/bass music

Amy Zing
Electro swing/Drum and Bass

Visuals from VJKC

Early bird tickets on sale from 28th November - Limited capacity, be aware this gig is likely to sell out.

18+ Only, ID will be required on the door.

Don't be a dick at GONNABESICK!