Home » CALUM LINTOTT
Joiners presents...
CALUM LINTOTT
+ TOM LUMLEY
More info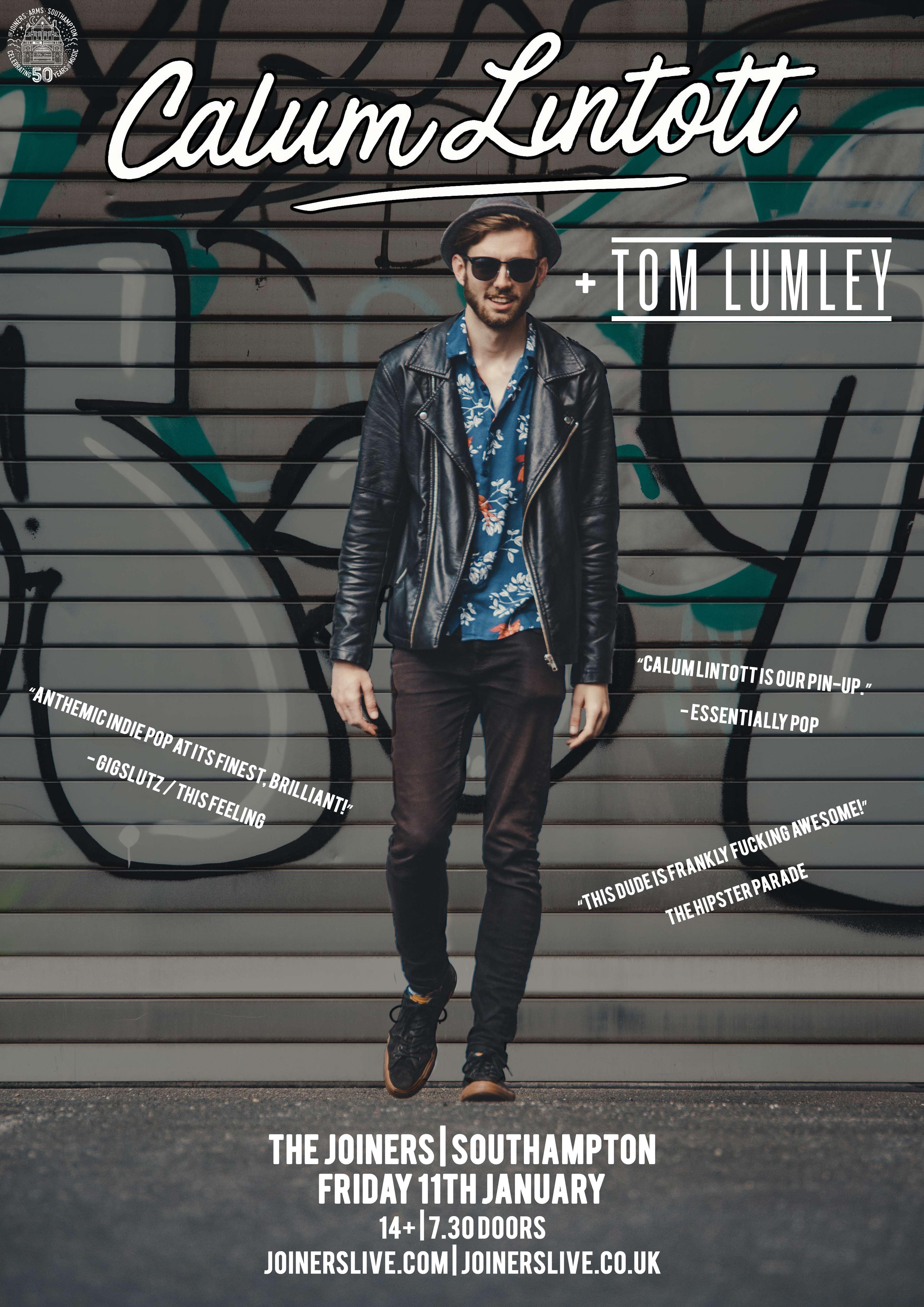 "This Dude is frankly fucking awesome!"
THE HIPSTER PARADE
After releasing his debut EP, 'The Way It Is', on the 4th November 2016, which features fan favourite and his debut single ' Pin-Up', Calum Lintott has been hard at work. Non stop writing, creating and releasing bigger anthems, including 'This World Is Not For Turning', 'The One That Got Away' and 'Wonderland'! He has also released the much anticipated emotional acoustic track 'I Don't Mind', in early 2018.
Lintott has been championed by and some made impressive appearances on the BBC South Introducing Solent show and has been fortunate enough to perform alongside and support some big acts including the likes of Frank Turner Starsailor and Tom Clarke (The Enemy) as well as shows in Europe. That's without even mentioning some of the big festival stages he has appeared on over the past two summers, perhaps the most notable being Common People's main stage and The Isle Of Wight Festival.
Debut single 'Pin-Up', perhaps Lintott's most popular song too date, received wide praise from bloggers world-wide and airplay on regional radio stations such as Voice FM, Halisham FM, The Premium Blend Radio Show and BBC Solent Introducing, who have since gone on to express their admiration for his most recent singles.
Calum Lintott is definitely one to watch, his mix of indie pop coupled with loud rock n roll guitars will get your feet stomping for sure. His powerful anthemic vocal delivery, groove laden drums and undeniably catchy melodies continue to wow crowds.
2019 looks set to be a big year for the indie rocker!
"Anthemic Indie Pop at its finest, BRILLIANT!"
- GIGSLUTZ / THIS FEELING
"Calum Lintott is our Pin-Up."
- ESSENTIALLY POP